Student Work

At The Beeches Independent School all students are offered a well-rounded and personalised curriculum. Alongside the expected subjects of English, Maths, PHSE and Science, our students can access a range of complimentary subjects and activities such as Food Technology, Design, and Life Skills. We are delighted to showcase some of their work below.
We are extremely proud of the amazing artwork our students have produced, who have shown their creativity through a variety of methods, such as painting, canvas drawing, tie-dye cushion stitching and potato printing.
The Queen's Lady in Waiting Letter
Our most recent and exciting achievement was receiving a letter from The Queen's Lady in Waiting! She kindly answered some questions from a letter we wrote to The Queen as part of an Azdan lesson where the students were practising formal and informal language.
Here are some of the dishes cooked by our students in Food Technology.
In Enterprise, students made dog biscuits from scratch then worked out how much they could sell them for, with the proceeds going to a chosen charity. To date the children have raised £68 for charity through different activities!
Topic: Living things and their habitat
Lesson: Classifying vertebrates
The photo below shows one student using the of classification keys as a way of sorting animals into groups. Students applied a series of 'yes or no' questions and generated questions to sort vertebrates using a simple branching key.
Lesson: 4 main stages of the lifecycle of the platypus
Students have been learning the 4 main stages of the lifecycle of the platypus in Science, and then had a go at making one with clay before painting them.
Topic: Animals Including Human
Lesson: Digestive System Parts
Students were given differentiated naming parts activity sheets which they then stuck next to their own drawing on the digestive system activity sheet. Students cut out and placed the parts in the correct places before labelling using keywords.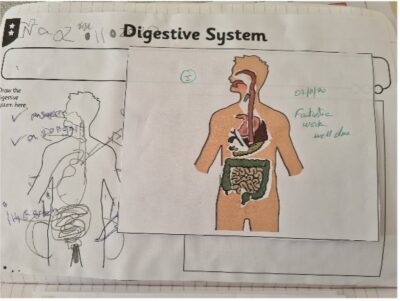 Lesson: Tooth Decay Enquiry
When students conduct comparative or fair tests, they want to test the effect of different liquids on an egg shell. It was stated that instead of teeth they will be using boiled eggs with shells on as this is similar to enamel on a tooth. Children decided on the question and the type of enquiry or test they would be using before selecting one of the differentiated tooth decay scientific enquiry activity sheets.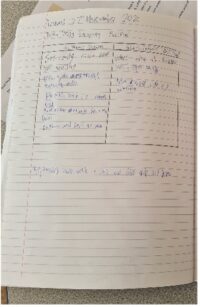 Topic: Light
Lesson: Reflective Surfaces
The below shows learners using their reflection tester to test the reflectivity of different materials on their tables. The students were investigating the best materials to choose to help the Brilliant Bag Company to use as the reflective strip on their new book bag.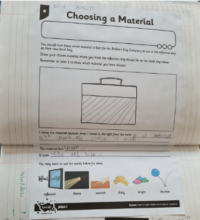 Lesson: Changing shadows
Students worked together using their tester equipment to investigate how shadows change. They explored how and when shadows change size, or direction.