Psychology Talks
At The Beeches providing a safe, supportive environment to help promote good mental health and wellbeing is at the heart of everything we do.
We are delighted to have enlisted the services of Dr Daniel Mulligan from Psychology Talks who will be providing tailored programmes to help improve psychological functioning and wellbeing amongst the young people within our care.
Dr Mulligan and his team can work with a wide range of mental health issues such as anxiety, depression, and relationship issues.
They will work with the individual's unique subjective psychological experience to empower their recovery and alleviate distress.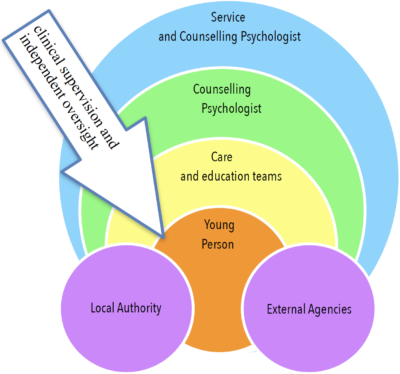 The diagram above represents Psychology Talks' working model for psychological input to be delivered in residential care. It keeps the young person at the centre of the process and then shows how each layer of support and oversight is applied. Therefore the Registered Manager and care team are the most influential layer in terms of care, supported by the psychologist with the service being overseen and monitored by the senior management. Finally, the model demonstrates how the clinical supervision and consultancy that the psychologist will provide relates to the wider service.
Key activities include:
Completing initial psychological assessments
Contributing to care / behaviour / risk assessment plans
Creating Therapeutic Plans with short, medium and long term goals
Psychological consultation with staff members and managers
Developing strategies and interventions to be used on a day-to-day basis
Direct therapeutic work with children and young people
Providing written records/evidence of support
Intervention and recommendations for quality management purposes
Attending LAC reviews and progression meetings
Workshop and training sessions
Support with life story work
Therapy
The psychologist can also provide a range of individual psychological therapies, including Cognitive Behavioural Therapy, Psycho-analytic Therapy, Person centred, Solution-Focused Therapy, Motivational Interviewing and Narrative Therapy.
Areas in need of support may include trauma, abuse, anger, anxiety, depression, family difficulties, self-harm, low self-esteem, communication and social skills, substance misuse difficulties, although this list is not exhaustive.
For more information, visit their website: their website or contact us.